Product Highlight – HSK 63F Gripper
Tony Maffeo
Product Highlight – HSK 63F Gripper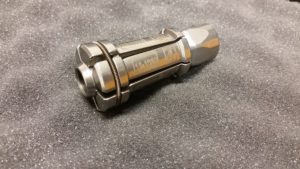 This product highlight is on our HSK 63F Gripper. (Video Below)
The tool holding clamp group is a.k.a. a gripper. The gripper is a wearable item just like bearings. Replacing your tool gripper once or twice is common.
Our HSK 63F Gripper is compatible with all HSK 63F, HSK 63B, and HSK 63D spindles. The tool gripper is interchangeable with the REBO and OTT Jakob HSK models.
Note: Grippers made by Ott Jakob and IMS require a tool to be present if the spindle is rotating. Do not mix fingers of the gripper even if it is the same manufacturer.
Our HSK 63F Gripper is of hard alloy steel, precision ground surfaces, and a low friction wear resistant coating. The grippers are of a common dense standard. These high speed designs are for high speed machines. These grippers have been individually balanced to provide low vibration usage during the life of the clamp group.
Maintenance is very important for your high speed gripper to prevent any excess or expedited wear or damages. Maintain with a rust preventative spray on your gripper and the correct concentration of coolant for corrosions. Check tool grippers weekly for wear and lubricate the tool  grippers every month with grease. Replace the tool if it is worn or damaged. You can cause damage to the rest of your equipment if you do not replace the tool. 
We will have a more detailed and comprehensive video blog about maintenance and care of your spindles and equipment in the upcoming weeks. Be sure to check back as we will be launching a continuous series on our spindles, spindle maintenance, and more!
Shop now for this HSK 63F Gripper.
Have questions or looking for another model? Contact us at sales@hsspindles.com or call (714) 307-2332.